Please join us at KTCJax in May!
We are delighted to host Lama Lodro Lhamo in May, while she teaches the practice of Green Tara, the female Buddha of Enlightened activity.
(from Namse Bangdzo)…Green Tara is a gentle female embodiment of universal compassion. She represents the virtuous, enlightened, and miraculous activity of all Buddhas. She reaches out her hand in the gesture of granting protection, freeing one from fear, obstacles, and difficulties. With her right foot stepping forward, she is alert, determined, and ready to actively help all who call upon her.
Green Tara is known as the 'Swift One' or the 'Swift Liberator' due to her immediate response to those who request her aid. Green Tara's compassion for the welfare of all living beings is said to be even stronger than a mother's love for her children. She is the one who helps us cross over the ocean of suffering and guides us upon the path of enlightenment.
Lama Lodro will teach on the Green Tara text, ritual, chanting, music, and lead practice sessions. It's wonderful to have this precious opportunity learn this powerful practice, as we are doing Tara puja once a month at the center again!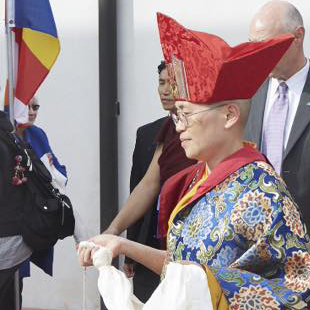 Lama Lodro Lhamo, pictured above in the procession welcoming His Holiness the Karmapa to his home in North America at KTD Monastery.
Lama Lodro Lhamo has been a student of Khenpo Karthar Rinpoche since 1990. She completed three consecutive three-year retreats at Karme Ling under Khenpo Karthar Rinpoche, and received full bhikshuni ordination in 2008. She is currently the women's retreat master at Karme Ling Retreat Center. She has a master's degree in Buddhist Studies from Columbia University. She's also fluent in Chinese, English, and Tibetan.
SCHEDULE
Saturday, May 16th
9-10:30 AM–Reading Transmission & Instruction
10:45 – 12 PM –Green Tara Puja
1:30 – 3 PM–Practice Instruction
3:15 – 4:45 PM–Green Tara Puja
Sunday, May 17th
9-10:30 AM–Practice Instruction
10:45 – 12 PM –Green Tara Puja
1:30 – 3 PM–Practice Instruction
3:15 – 4:45 PM–Green Tara Puja
SUGGESTED DONATIONS/FEES:
$25 per Session or
$80 for the Entire Retreat Weekend.
(no one turned away for lack of funds, and work-study scholarships are available. Please inquire at the Center or email Casey Stone for more information.
Thank you for supporting KTCJax!