The benefits of reciting the mantra Om Mani Peme Hung, associated with the Buddha Chenrezig, the Buddha of Compassion, are held to be as infinite as space.  This mantra is a prayer, a deep aspiration from our most loving heart and mind, that all beings in all realms be reborn in a state of bliss, without suffering, thus able to be of benefit to all beings remaining in samsara.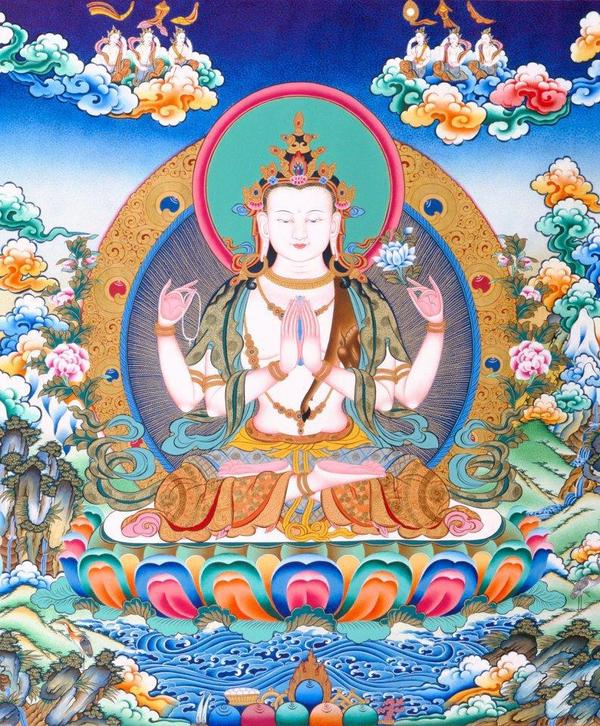 For ourselves, we are incredibly fortunate to have met the Dharma in this life and to have the opportunity to perform the meditative practice and recite the mantra of the Buddha of Compassion.  Recitation of this mantra is a powerful practice through which we may purify our own negative karma, from this as well as previous lives. Recitation of this mantra, with heartfelt aspiration to liberate all beings from suffering, is also a profound method for accumulation of extensive merit.  Sincere recitation of this mantra has the power to transform our minds and hearts, to propel us along the path to enlightenment, and thus, to benefit beings and bring peace to this Earth.

As taken from a teaching by Khenpo Karthar Rinpoche:
It is said that all the teachings of the Buddha are contained in this mantra.

| | | | | | |
| --- | --- | --- | --- | --- | --- |
| Om | Ma | Ni | Pe | Me | Hum |
| (ohm) | (mah) | (nee) | (peh) | (may) | (hung) |
     The Power of the Six Syllable "Mani Mantra"

The six syllables perfect the Six Paramitas of the Bodhisattvas
| | | |
| --- | --- | --- |
| OM | : | Perfects the practice of generosity. |
| Ma | : | Perfects the practice of pure ethics. |
| Ni | : | Perfects the practice of tolerance and patience. |
| Pe | : | Perfects the practice of perseverance. |
| Me | : | Perfects the practice of concentration. |
| Hum | : | Perfects the practice of wisdom. |
 Thus, in honor of the 30th birthday of His Holiness Karmapa 17th, which coincides exactly with day of the 30th Anniversary of the inauguration of KTC Jacksonville, we are requesting members and friends of KTC Jax to recite as many manis as possible. Members of other KTCs and KKSGs across the KTD family are invited to join us in our mani accumulation and offering. Our aspiration is to accumulate 1,000,000 mantras to offer Khenpo Rinpoche, our beloved vajra master, and to His Holiness Karmapa, our root guru, who is an emanation of the Buddha of Compassion, Chenrezig.
Due to flood damage to our local center, our Anniversary celebration is postponed for approximately four to six weeks. We are asking practitioners to keep track of their mantra count, which will be reported to Lama Kate White (katewhitemd@yahoo.com) at a specific date to be announced, based upon our reentering a repaired and restored KTC. Meanwhile, there is a lot of time to accumulate Mani mantras!